Posted on April 05, 2016 in Nuptials
Own that Wedding Theme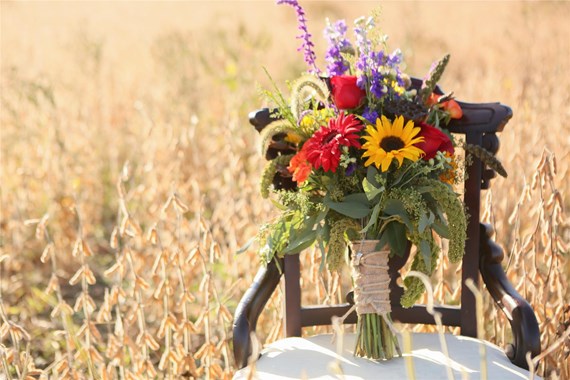 While picking a wedding theme and colors is fun and exciting, what's even more exciting is planning a wedding that is unique to you and your future spouse. There are so many different parts of your wedding, from the venue and the food to the flowers and the décor. The key isn't to find a theme that you can insert you and future spouse here, but rather coming up with a unique combination that gives you the opportunity to really own your theme.
Obviously a venue is one of the first items on your checklist, and it should be a part of your theme, but it doesn't have to dictate your theme. Since a rustic barn is what we have to work with, let's use that as an example. If you like a rustic look, or if you or your spouse grew up in the country, you may be more inclined to be interested in a barn venue.
If you do choose a barn venue, that doesn't necessarily you have to go completely country. Of course, that's an option. If country is what you're looking for, you can look into incorporating burlap, wildflowers and vintage décor with muted colors. But if one, or all of those details sound less than thrilling – keep the barn and ditch the rest.
If you and your future spouse met or fell in love in the city, it can be fun to give the décor a modern theme, making the overall atmosphere rustic elegance or vintage modern perhaps? When it comes to the colors, if muted colors aren't your thing and you prefer bright, vibrant shades – shatter the stereotype! Don't be afraid to be unique and bold. This is your day.
The theme isn't all in the décor, either. Don't overlook the menu. Whether you realize it or not, dessert isn't the only food at the wedding that gets incorporated into your theme – you have an opportunity with your entire menu! Not many realize the menu is a place for your theme to shine. If you decide to go with a charming country theme, you may want to choose a farm to table menu. Do you and your future spouse have very different tastes? Embrace them both and give your guests something different – a menu with a unique twist.
In every aspect of your wedding there is an opportunity for you to choose a color, or a decoration that means something to you and your future spouse, and in turn, makes it a unique combination. So, when you start looking for venues, remember that choosing a venue doesn't mean your choosing a theme – you still have the opportunity to take that space and create a unique combination of decorations, lighting and food that makes it yours. This is really about creating your very own, unique fairytale.