Posted on March 24, 2016 in Nuptials
Bridal 101: The Checklist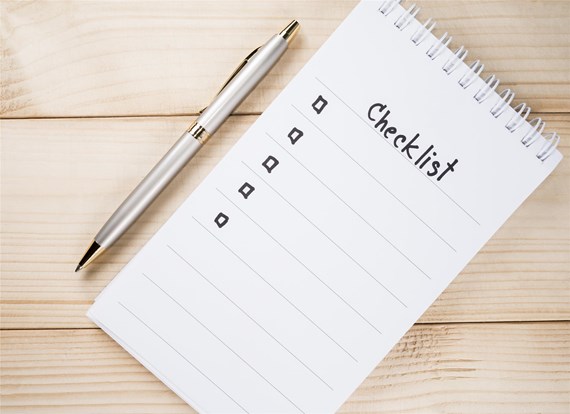 Congratulations on your engagement! At this point, there's so much excitement that it's hard to remember everything, or know where to start. Since we've worked with several brides, we know the process pretty well and have put together our own bridal checklist for you. So, get out your wedding Pinterest board, and start checking some items off of your list!
The Basics
Chances are you've envisioned these in your head. What time of year do you dream of getting married in? Is it a summer fling, or a cozy winter bash? Are you outside? Inside? What's the atmosphere? Who's standing beside you? These are the essentials. If you and your future spouse haven't discussed these details, now is the time to do it. A preliminary budget range should be a part of this discussion as well. Will anyone be helping you pay for the wedding? The overall budget should guide the rest of your decision-making. The last thing you want to do is spend all of your budget in one area, and not have any left for anything else.
• Choose a time of year
• Choose a budget
• Choose a venue
• Choose your bridal party
The Crew
Once you have the overall, big picture essentials in place, there are some staple vendors that you'll need to decide on. Now that you know your overall budget and have booked a venue, you know what you have to spend on your photographer, cake, florist, etc. While this can be overwhelming the key is to prioritize! If you absolutely love flowers and cake and want to spend more on the details of the day, you may need to spend less on the meal, music and photographer. There are also necessities, like an officiant – you need one of those to make the marriage official, so make sure you're familiar with what he/she charges.
• Hire an officiant
• Hire a wedding planner
• Hire photographer/videographer
• Hire florist
• Hire cake baker
• Hire caterer (you can skip this if you book with us)
• Decide band or DJ
• Decide on transportation
• Decide where to register
The Style
Once you have the big picture and the vendors in place, it's time to focus on some of the details. You've decided on a date and a venue, but what about colors and a theme? Chances are your season and venue will dictate some of this, but there's still plenty of room to be creative. By this point you've probably scoped out wedding dresses – either in-person or online. Now is the time to try some on and make a decision on what you want. Do you want the bridal party attire to complement each other, or you and your future spouse? Colors and theme, along with your style, will help lead the decision on bridal party attire. It's also time to make a decision on wedding rings. Carve out some time for you and your future spouse to try on your options and get your rings ordered. Finally, invitations need to be ordered. Don't worry – there can still be some room for flexibility in your guest list, but you should have a pretty good idea of how many people so you can order accordingly.
• Determine colors and theme
• Order your wedding dress
• Search for bridesmaid dresses and suits for the guys
• Buy your wedding rings
• Order invitations
The Details
The type of ceremony you choose may determine some of the details you can choose. But chances are you'll want to choose the song you walk down the aisle to at the very least. If you won't be writing your own vows, you'll want to research and choose some that are appropriate for you and your spouse to be. If your ceremony will be longer, you may want to consider ordering ceremony programs so that guests can follow along. Where will your out of town guests be staying? Now is the time to set aside a block of rooms for them. Once you have these details figured out, why not make a wedding website with all of the details?
• Choose readings, songs, vows for the ceremony
• Book the rehearsal dinner location (We can take this off your hands!)
• Block rooms for out of town guests at a nearby hotel
• Order ceremony programs
• Create your wedding website
• Finalize guest list
• Send out Save the Dates
Finishing Touches
Favors, finalizing food, centerpieces and flowers, and sending invitations are all a must. As is your marriage license (you won't get very far without it!). The others are optional, but things we highly recommend. For out-of-town guests, it's nice to have directions to the ceremony site, from the ceremony to the reception (if applicable), and from the reception site to the rehearsal dinner location. We also recommend compiling a list of things to do in the area for those who will be coming into town and may have some spare time to explore. What better way to make them feel at home? Finally – RELAX. Book your spa appointment for the wedding.
• Write directions to ceremony site, from ceremony to reception, from reception site to rehearsal location
• Write list of things to do in the area for out-of-town guests and dates
• Buy reception favors
• Confirm food with the caterer
• Finalize centerpieces and flowers
• Send invitations
• Schedule your spa appointment
• Get a marriage license
There it is. The Herman & Luther's checklist for planning your big day.